Every March, in recognition of the Academy of Nutrition and Dietetics' National Nutrition Month®, communities and families across the country focus specifically on good nutrition. The 2015 theme, "Bite into a Healthy Lifestyle," encourages everyone to adopt healthful eating and physical activity habits.
At the U.S. Department of Health and Human Services (HHS), we aim to help all Americans enjoy a healthy lifestyle that reduces the chance of getting sick. Here are ten ways to celebrate National Nutrition Month®:
Lunch with a nutritionist
Join our brown bag luncheon with nutrition researcher Margaret McDowell, PhD, MPH, RD to chat about ways to power up at work with nutritious snacks. Bring your (nutritious!) lunch and join the conversation Thursday, 3/19 at 12pm at the HHH Building, Room 305A.
Make your voice heard
Later this year, HHS and the U.S. Department of Agriculture (USDA) will jointly release the Dietary Guidelines for Americans, 2015. But first, the Departments want to hear from you! Go toDietaryGuidelines.gov now to submit a public comment about the newly published Scientific Report of the 2015 Dietary Guidelines Advisory Committee.
Set goals and earn awards
The Presidential Active Lifestyle Award (PALA+) is a six-week program that encourages individuals to achieve healthy eating and physical activity goals each week. Earn the Presidential Active Lifestyle Award once you complete the program!
Fuel your body
HHS employees enjoy a nutritious menu at the HHS Café. Check your favorite lunch spot for healthy options.
Use #GimmeFive on social media
Celebrate the 5th anniversary of the First Lady's Let's Move! initiative by getting involved in her newestchallenge. #GimmeFive whenever you make a healthy choice, and challenge others to #GimmeFive more!
Put Healthy People 2020 into action in your community
Communities across the country are taking action to meet the Nutrition and Weight Status objectives of Healthy People 2020. Are you? Get inspired with these "stories from the field"!
Teach a nutrition workshop in your community
Every town needs a healthy lifestyle champion. Why not you? Teach friends and neighbors how to apply the Dietary Guidelines and Physical Activity Guidelines using the free Eat Healthy, Be Active Community Workshop Series! These six workshops in English and Spanish include lesson plans, hands-on activities, videos, handouts, and more.
Set up a nutrition plan that works for you
Help make nutrition more fun in your home, school, workplace, or community. Learn how with theseNational Nutrition Month® tips from the USDA or find a nutrition expert in your area and invite them to speak to your group!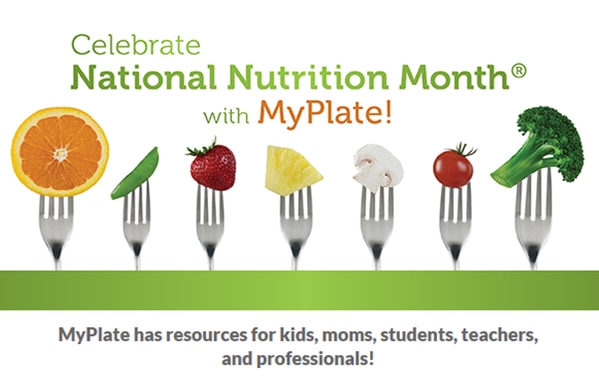 Use SuperTracker to meet your nutrition goals
Need some encouragement? Try using SuperTracker to help achieve your goals.
Join our National Nutrition Month® Twitter chat
Source: U.S. Department of Transportation, "Ten Ways to Bite into a Healthy Lifestyle During National Nutrition Month" http://www.hhs.gov/ website. Accessed January 27, 2016. http://www.hhs.gov/blog/2015/03/04/ten-ways-bite-healthy-lifestyle.html
© Copyright 2016. All rights reserved. This content is strictly for informational purposes and although experts have prepared it, the reader should not substitute this information for professional insurance advice. If you have any questions, please consult your insurance professional before acting on any information presented. Read more.